I've been visiting Slovenia since 2007 and living here since 2017. Slovenia is the sixth country and on one of three continents I have lived, so I have some perspective on life in other parts of the world.
In the interest of balance, I also wrote a '5 Worst Things About Living In Slovenia' article too. That was however, a considerably shorter piece, and one that is vastly outweighed by the positive aspects of life here.
In fact, I love Slovenia so much, I founded BREG Apparel, a brand of Slovenia-inspired t-shirts, celebrating this amazing country that I now call home.
1. Natural Splendour: Slovenia Is Extremely Good Looking
I have lived in Europe, North America and Asia (see: For Fukui's Sake: Two Years in Rural Japan), yet no country I have visited is as consistently beautiful as Slovenia. It's the type of beauty that punches me in the stomach and gives me a funny feeling.
And it's not just a handful of hotspots either. Yes, Lake Bled and the old centre of Ljubljana and Piran are the pretty pin-ups of the country, but almost everywhere, from the spikey mountains of the Julian Alps, to the vineyards of the south, to the terracotta towns of the coast, to the villages of the Slovenian hinterlands, makes my heart go boom.
2. Weather: It Has A Great Climate
For me, Slovenia has an almost perfect climate. If you like snow, you'll enjoy Slovenia's proper, cold, snowy winters. There are ski areas dotted all around the country including Krvavec which is just 30 mins from Ljubljana, plus many more a little further afield.
Slovenian summers are hot, meaning lazy days cooling off on the coast or by one of the lakes or aquamarine rivers. Spring and autumn are ideal inbetweeners; warm days, and crisp evenings. Plus Slovenia gets some really good, heavy thunderstorms, and everyone loves a good storm – right?
3. Lingo: The Level Of English Is Amazingly High
Most Slovenians of a certain age speak English as a second language to a level only rivalled by Scandinavians. Indeed, it would not be possible for me to work for a Slovenian company, were it not for my colleagues' impressive ability to speak English so fluently.
This is however, a double-edged sword; if you're trying to learn Slovenian, (which I am), practice at speaking the language on a day-to-day basis can be in short supply. In fact, many Slovenians are tri-lingual, often having a working knowledge of German or Italian in addition to English and their mother tongue.
4. Location: It Has A Great Central Position In Europe
Slovenia prefers to be deemed to be in 'central' rather than 'eastern' Europe and for good reason. Geographically, it's much further west than many might realise, bordering Italy and Austria, as well as Hungary and Croatia.
Ljubljana is only 2.5 hours from Venice, 3.5h from Vienna and 2hrs from Zagreb. Politically and culturally too, Slovenia seems to have more in common with western Europe than the (former) eastern bloc, and is modern, developed and advanced.
5. Crime: It's Super Safe
Though not completely non-existent, crime rates are very low in Slovenia. It's a country where kids still play in the streets without parental-fear, you can walk most anywhere at any time of day, and people often leave their cars unlocked when in the shops. Statistically, murder rates in Slovenia are the lowest in the EU.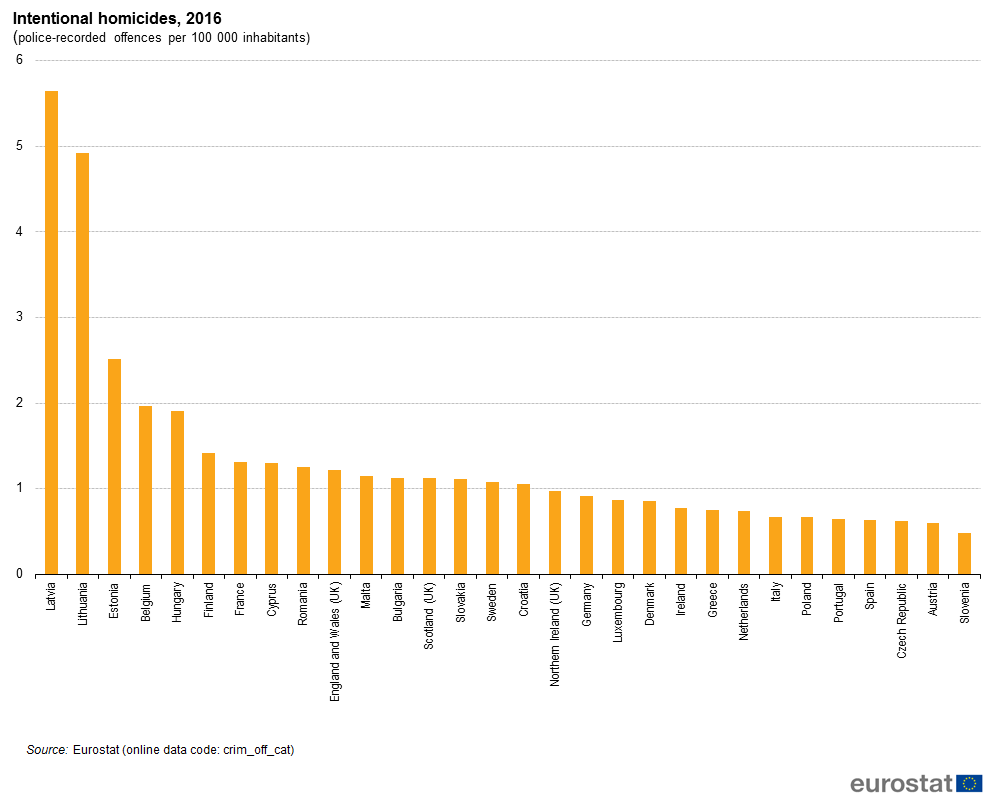 6. The Great Outdoors: It's Clean And Green
Slovenia has done well to preserve much of its natural beauty and most of the population are respectful of their environment. Litter levels are low and recycling provision is high, and it's ranked the 3rd most forested country in the Europe. Slovenes love the great outdoors and spend plenty of time hiking, skiing, kayaking, paragliding, rock climbing etc etc.
On a more day-to-day basis, I have been particularly impressed with Ljubljana's provision of bike lanes. Almost all major roads, and many minor ones, have a designated bike lane, and many even have a bike lane completely separated from the road. This is vastly superior to what I'm used to in the UK and enables me to cycle around much of Ljubljana, without having to worry about getting run down by a car, and encourages the population to use their bike.
7. Tech Jobs: Slovenia is a Blockchain Hotspot
There are lots of interesting start-ups and several established tech companies in Slovenia. A high level of developer talent, combined with a high level of English and a pedigree of programming has led to a petite, yet healthy tech-scene. Some Slovenians have historically sought employment in Germany, the UK or elsewhere, but the growth of Slovenia's tech scene (especially blockchain and 'crypto') is also drawing foreigners to move here.
8. Rural Traditions Remain Alive
In contrast to #7, sometimes living in Slovenia feels like a welcome step back in time. Many things that UK hipsters deem 'artisanal' or 'craft' and pay big bucks for back home, are just part of everyday life here.
Growing your own vegetables or butchering your own meat and making your own sausages for example. Or making your own schnapps, cider or wine; many Slovenes have hobby vineyards with little wine cottages. These are all common aspects of Slovene life, which are less common now (or non-existent) in the UK, outside the said expensive 'artisan' arena.
I do wonder however, if the next generation of Slovenian teenagers will continue with such a way of life, when it's often easier, cheaper and quicker to buy such supplies from the local supermarket, rather than spend two days butchering a pig and making your own sausages, or tending your vineyard every weekend .
I once joined my friends Rok and Ivo at their dad's wine cottage during the grape harvest. They complained bitterly that they had to put in a huge amount of work throughout the year in order to make wine which was inferior and in the end, more expensive, than what they could buy in the supermarket.
Though I could see their point, I love this aspect to life here, and I hope Slovenes will keep it alive for a long time to come.
9. Slovenes Are Friendly
My overriding experience, having been visiting Slovenia since 2007 and living here since 2017, is that 99% of Slovenes that I have interacted with have been kind, friendly, welcoming and helpful. I have had only a couple of bad experiences (see: Battling Bureaucracy: A Taste of Red Tape in Slovenia), and most Slovenes have gone out of their way to assist me when I've been in need. Which has been quite often (see: Barcelona to Breg: Road trip from hell | Part 2).
I often think that a Slovene living in the UK would not have experienced as much kindness from the Brits, as I have here, especially considering I am no where near fluent in Slovenian (though I am learning: see: Struggles with Slovene: 6 Months of learning Slovenian).
10. The Quality of Life is High
Slovenians on the whole enjoy a high quality of life and there seems to be, overall, a good level of equality across the country. Saying this, I have found that Slovenians are a little over-obsessed with salaries.
I often hear them complain that salaries in Switzerland, or Germany or the UK are so much higher than in Slovenia. Whilst it's true that the average salaries are higher in those countries, I feel Slovenes sometimes overlook the much higher living costs of those countries, and are therefore missing the bigger picture: the actual quality of life in their own country.
Beach time, mountain skiing, great weather, good quality food and great wine, a clean, green and safe country, are all aspects of Slovenian life accessible to the average Slovene, which can't be said for the UK.
Do you agree with my list?  What do you like about living in Slovenia?
If you are a Slovenia fan – show your Slove with a BREG t-shirt: